GAP's full-time program includes 4 levels of study: Class One to Class Four. As a complete beginner, you will be placed in Class One and the following semester, you will progress to Class Two, etc. There are two semesters each academic year, fall and spring, and they are 18 weeks each (excluding holidays and breaks). We also offer a Summer Intensive Program for 4 weeks in the summer, but this is typically for people not participating in the full-time program.
A student's weekly schedule looks like 2-3 hours of live class each day, Sunday to Thursday (Oman/UAE time) with an additional 10+ hours a week of guided, at-home prep on our Moodle learning platform, and another 10+ hours a week of self-study, vocabulary practice, and visiting with native Arabic speakers.
Typical schedule for a full-time student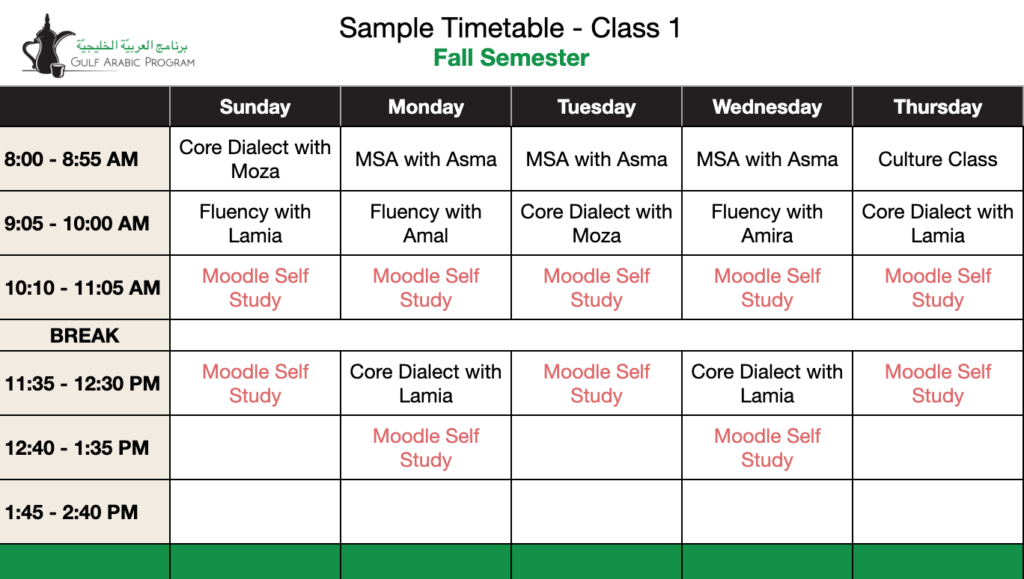 ---
Class Descriptions
Core Dialect Moodle Self Study – These study sessions are for self study on our Moodle Learning Platform. Students work through pre-recorded grammar teaching videos, vocabulary, model conversations and greetings, grammar drills and post in interactive forums online. They also prepare their thoughts for topics of conversation in the Core Dialect Live sessions with the teacher. Whilst studying on Moodle, students are encouraged to note all of their questions for the teacher, to be asked during the live session. Students are encouraged to time table these sessions into a daily plan to ensure they happen, but they can be completed at any time before the next day's Core Dialect class.
Core Dialect Classes – These classes have 2 or 3 students per class. The teacher assesses the students understanding of what they have covered in the Core Dialect curriculum within Moodle. The teacher answers any student questions, and gives them an opportunity to demonstrate what they have learnt. If the student needs extra support or practice, this happens during the live class. If all of the students have understood the basic concepts the teacher gives opportunity for practice and extension.
Fluency Classes – These classes have 3-7 students. Students have an opportunity to practice what they've learnt in their live sessions in a variety of contexts. They may talk about a picture, tell a story or discuss a specific topic. Breakout rooms are used to maximize talk time, with the teacher visiting the different rooms to give individual feedback based on the level of the student.
MSA (Modern Standard Arabic) – These classes have 3-7 students. Students work through the MSA textbook. Homework is given in order to maximize class time for peer work, discussion, and clarifying misunderstandings.
Culture Class – This class is just for Semester 1, and is conducted in English. 18 different topics are covered throughout the semester, such as: How to Build a Language Learning Community, Tips on Making Local Friends, Being a Humble Cultural Learner, Participating in Community Events etc…