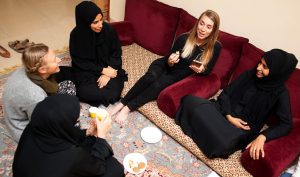 Established in 2001, the Gulf Arabic Programme, currently under the auspices of My Language Institute, provides quality Arabic lessons to people planning to live and work in the Arabian Gulf.
Learn the spoken Gulf dialect of Arabic using a variety of methods and materials fitting a variety of learning styles, with an emphasis on communicating in Arabic with both fluency and accuracy. Local native Arabic speakers teach the everyday vocabulary and common expressions that they themselves would use, within a framework that teaches you to express yourself as Arabs would express themselves.
Learn to read and write the Modern Standard Arabic (MSA) using the acclaimed Al-Kitaab series published by Georgetown University Press and developed at Middlebury College.
Mix with your Arab friends and neighbours on a regular basis practicing the language and building relationships with local people.
To report any broken links or other difficulties on this web site or to contact us regarding any other matter, please visit the Contacts page.
Welcome!

Welcome to the Gulf Arabic Programme. If this is your first time, please click the Next button to begin a tour of the site.

Questions?

The FAQ menu has several questions that often come up as well as additional resources for learning the Arabic Language.

Class Info

We have different options for courses and a lot of information about them here.

Calendar

See what is coming up on the full page view of the GAP School Calendar.

Quick View

And here is a small overview on every page.

Quick Tips

Check out all the valuable language learning tips!

Apply Now!

Ready to start? Head over and fill out the application.

Talk To Us!

Or – if you still have questions, feel free to send us a message via the contact page.