Learn Arabic
The full-time programme is designed to take in students who know nothing of the Arabic language and equip them to become competent communicators able to live, work and build relationships within the medium of the Arabic language. We can also receive those who have previously studied Arabic, please contact us for more details.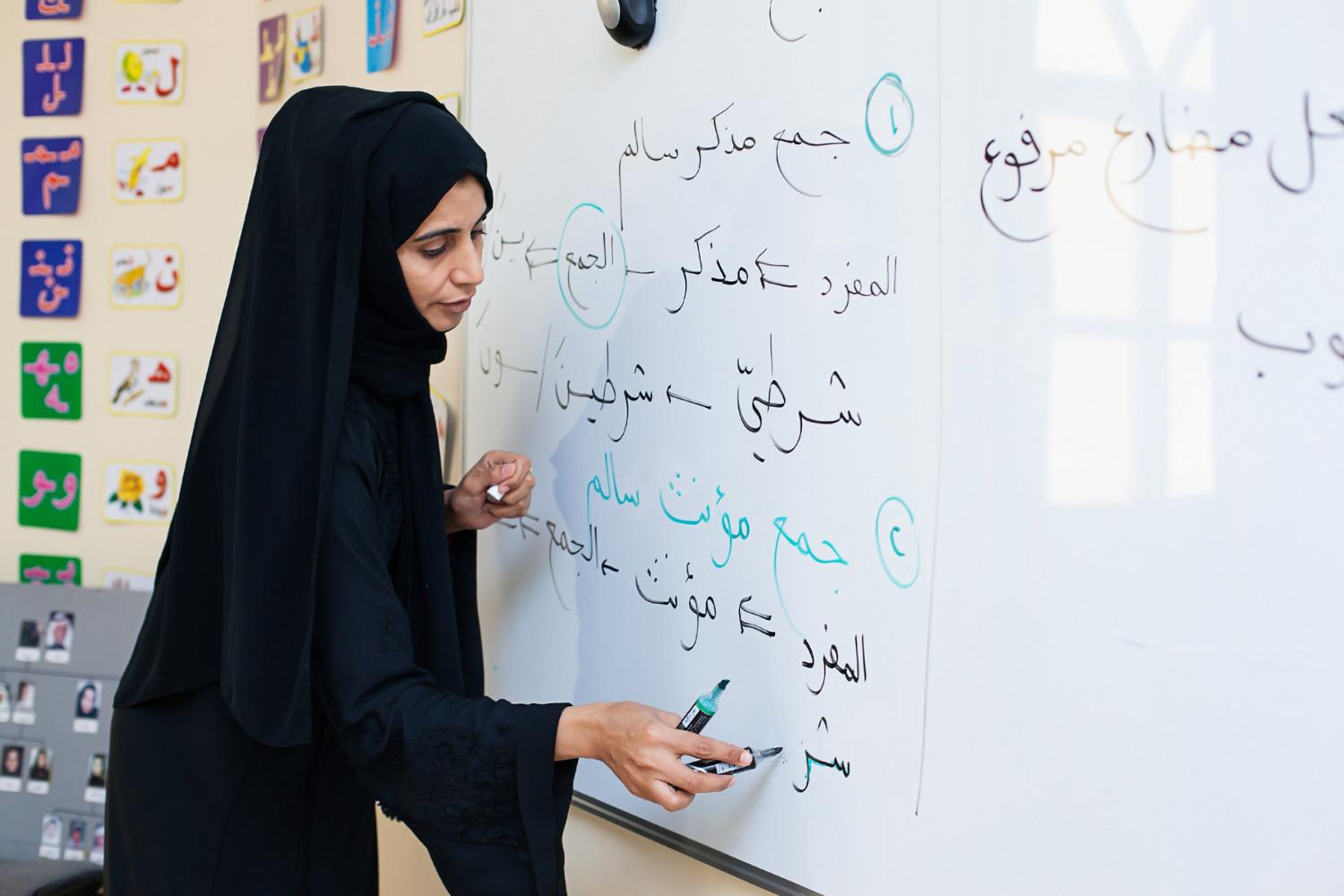 ---
Weekly Schedule
Our two-year full-time programme consists of four 18-week semesters. Classes are held five days a week (Sunday to Thursday) with 4 hours of class time each morning. Approximately 2/3 of the time will be spent studying the spoken Gulf dialect, and the other 1/3, Modern Standard Arabic.
In addition to class time, students are encouraged to actively develop their own local friendships and find opportunities to practice in the community around them.
The Two Year Programme
Semester One

Initial Three Weeks

Getting Started – an oral introduction to common spoken phrases
Hayaa Binaa I – introduction to the Arabic Script

Remainder of the Semester

Camel Book – GAP's own spoken Gulf dialect Book I
Show-and-Tell – Communicate your own experiences and stories
Hayaa Bina II – A first introduction to MSA rules and grammar

Semester Two

Gazelle Book – GAP's own spoken Gulf dialect Book II
Picture Stories – Grow in longer narrative production and creativity in Arabic
Topical Discussions – Broaden your vocabulary and ability to communicate on a range of topics
Sahlawayhi I – Develop MSA reading skills with this Arabic reader designed for adult learners
Al-Kitaab I – Explore MSA grammar and construction

Semester Three

Falcon Book – GAP's own spoken Gulf dialect Book III
Topical Discussions – Continue to broaden your vocabulary and ability to communicate on a range of topics
Sahlawayhi II – Develop MSA reading skills with this second Arabic reader.
Al-Kitaab I & II – Continue to explore MSA grammar and construction as you complete Book I and begin Book II

Semester Four

Although the content of Semester Four varies depending on the aptitude and interest of the students involved, the focus is always heavily on developing fluency of expression across a broad spectrum of topics. Possible options include local Folk Stories, Debate, Arabic in News Media, Cartoons and Political Satire, Arabic Television, Family Problems, Money Issues, Role-Playing and Advanced Conversations.
Further Study Options
After completing the two-year full-time programme, many students express a wish to continue studying with our experienced teachers. For those who want to continue to develop their language through the Gulf Arabic Programme, new course materials have been developed in 2018 and are now available for students. Topics include Omani Conversations, Community Issues, Instagram Topics, Colloquial Sayings and Responses, Topical Discussions II, Cooking Demonstrations, TV Comedy, Pronunciation and Grammar Review. This programme can be tailored to suit the students ability and schedule, on a part time or block course basis. Talk to us to arrange a program that suits you.
Course Goals
A student who has completed the full course can be proficient to the Advanced Level (ACTFL) in the four language skills of:
Speaking
Discuss topics of current and personal interest
Handle most situations of daily life
Narrate and describe in smooth discourse
Make factual comparisons
Handle arrangements regarding study and travel, involving minor complications, e.g. losing documents, missing an appointment etc.
Listening
Understand topics of current and personal interest when talking face to face
Understand everyday topics, well-known current events, routine matters etc.
When listening to a conversation between two native speakers will often be able to follow the dialogue
Reading
Read multi-paragraph materials of a factual nature
Read articles from popular newspapers on familiar subjects
Writing
Correspond with Arabic speaking friends
Join sentences in simple discourse of at least several paragraphs on familiar topics
Write narratives and descriptions of a factual nature
In addition the student who has successfully completed the course will be able to continually learn in all these areas through normal usage.
Learn More